Details

Created on Sunday, 26 April 2015 22:54
Written by Super User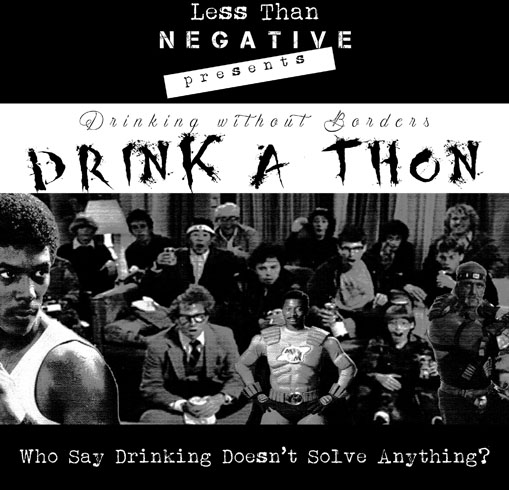 Drinking Without Borders:  Drinkathon to benefit Doctors without Borders.
Who says drinking doesn't solve anything? The Less Than Negative crew tackles on their next challenge hoping to not fail miserably. Drinking without Borders is a drinking event where our misguided bandits raise money for Doctors without Borders by drinking ourselves stupid and watching horrible movies.
On Sunday, May 24th we will be streaming via Ustream our punishment through such film classics as Suburban Commando, Meteor Man, Revenge of the Nerds III, and the Last Dragon. Yes it is going to suck. And since just getting wasted through movies would be to easy, we are incorporating the ROULETTE WHEEL OF DOOM. Each hour, we will test each others BAC levels where the lowest will have to spin the wheel and subject themselves to whatever humilation is won.
The important this is that we raise funds for the real heroes over at Doctors without Borders who have done an amazing job helping impovershed area of the world with medical care. Even if you don't stick around for our streamed failure, go ahead and cough up a few bucks to do the right thing.
The LTN crew thanks our family, friends, and fans for their support in this as well as the dedication of Doctors without Borders..
Please show your support at the Gofundme we set up for the charity event and give what you can!